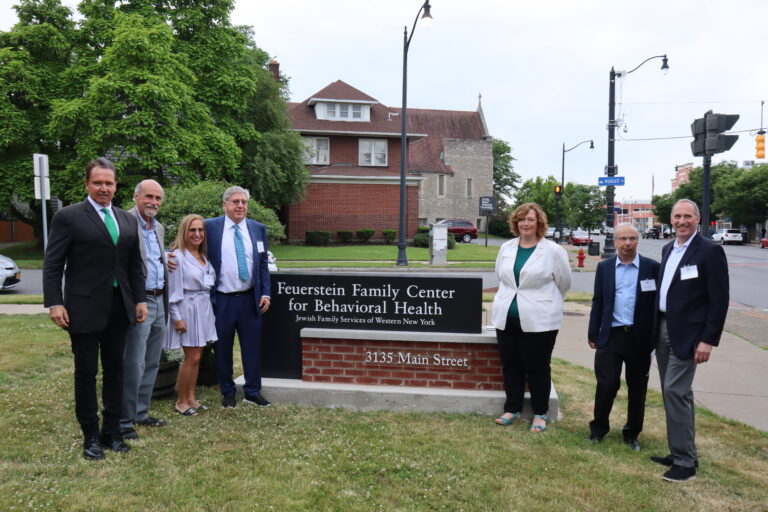 Yesterday, Jewish Family Services of Western New York (JFS) celebrated the dedication of the Feuerstein Family Center for Behavioral Health. The day's events included remarks from agency executives and private and public supporters, a sign unveiling, and guided facility tours.
The Center will become the home of JFS' innovative behavioral health programs focused on expanding access and culturally grounded care to all members of the community. In recent years, JFS has doubled its operating budget, its staff, and its capacity to serve a diverse range of clients. The opportunity of this growth has allowed for space expansion.
To Buffalo-born David Feuerstein, supporting JFS and this initiative made perfect sense, stating "JFS aids the less fortunate to become viable, valuable, and resourceful members of our community. It's truly a blessing to be involved with such a wonderful organization."
Mr. Feuerstein also credits his upbringing and commitment to tzedakah, Hebrew for righteousness. The philosophy is a guiding principle that it does not matter what you have in life; what matters is what you do with what you have in life to make a lasting impact on others' lives.
Located on the corner of Main Street and Highgate Avenue in the City of Buffalo's University District, the building at 3135 Main and adjoining property at 6 Highgate were purchased by JFS in late 2020. Built in 1918, the combined properties offer approximately 3,000 square feet of additional service space and is on a public transportation route used by many of the agency's clients.
"I'm thrilled that JFS is taking a major step forward in the agency's provision of crucial and much needed behavioral health services to Western New Yorkers, including an expansion of services to refugees," said JFS' Immediate Past Chair, Blaine S. Schwartz, Esq., adding that "Holocaust survivors and survivors of torture are examples of beneficiaries of the new Feuerstein Family Center for Behavioral Health. All this opens an exciting window of opportunity for JFS."
"Jewish Family Services of Western New York has a long history of welcoming and assisting members of our community in need, especially the immigrant and refugee populations that recently joined the Western New York Community. Their comprehensive care and services represent the best of the City of Good Neighbors," said Congressman Brian Higgins. "As our country contends with a mental health crisis, JFS is taking a critical step forward by expanding their behavioral health services to help Western New Yorkers new and old address and recover from the trauma and challenges they have endured. A special thank you to the Feuerstein Family Foundation for their generosity and support for uplifting underserved communities."
For Chief Executive Officer, Dr. Molly Carr, this day marks a significant milestone since assuming her role in 2019. "JFS has combined our behavioral health expertise with our ability to support culturally diverse populations in our work with Holocaust survivors, older adults, and participants in our Refugee and Immigrant Center for Healing," she said, adding, "dedicating the Feuerstein Family Center for Behavioral Health ensures our unique and important programs have a facility that is both modern and welcoming to those we serve.  We are truly grateful for the support of David Feuerstein and his belief in the work we do."
Yesterday's event also marks the initial phase of a $2.5 million capital campaign titled Opening Doors on the Pathway to Healing. The campaign will support mechanical improvements, renovations, and modernization of the agency's headquarters on the second floor of 70 Barker Street, as well as the Feuerstein Family Center for Behavioral Health. Both properties will address accessibility through the addition of elevators and lifts, provide for modern and welcoming client spaces, and ensure many needed mechanical upgrades.