Jewish Family Services – Here for the all for more than 160 years.
The ongoing war between Israel and Hamas has had powerful and traumatic impacts on individuals and families around the globe. JFS is here to help in this time of crisis. We have expanded our services to help all of those impacted
All support services are free of charge.
Primary contact:
Matthew Stewart, Manager, Jewish Community Services
716.883.1914 ext. 314
Brought to the community the the generosity of the M&T Bank Charitable Foundation:

Healing Conversations for Adults, Children, and Families
We understand that talking with someone is a challenging decision to make. But we are here for exactly this purpose. Our professional and credentialed therapists are experts in their field and are able to provide an array of options:
Confidential services guarantee.
Individual adult or child sessions.
Group sessions for the whole family.
In-person or virtual scheduling.
Free of charge
Parenting Groups & Talking with Children
JFS' is available to create and facilitate parenting groups to help support their children and navigate difficult times and topics.
Additional parenting resources:
We will continue to update resources as they are identified.
Healing Conversations for Synagogue Staff and Members, Jewish Community Organizations
We know that leaders of Jewish places of worship or community organizations are committed to supporting their staff and constituents. A gathering to listen, talk through, and process what is happening is a way for people to feel connected to one another. Group sessions offer:
Professional facilitation.
Safe and respectful spaces for discussion or listening.
Sessions held on site.
Free of charge.
Community Events
Our goal is to keep everyone up to date as to what is happening in the Jewish community. Attending an event shows the strength and fortitude of all Jews and Jew-adjacent supporters. If you have an event you would like propose we add, please contact us.
PREVIOUS EVENTS
Sunday, October 22, 11:00 a.m. – 12:30 p.m.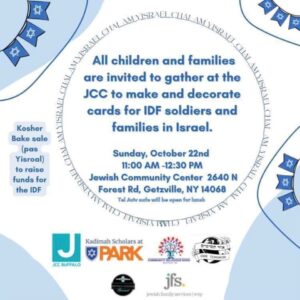 Resource Sharing & Talking with Children
Jewish Community Center
2640 North Forest Road, Getzville
Monday, October 23, 7:30 p.m. – 8:30 p.m.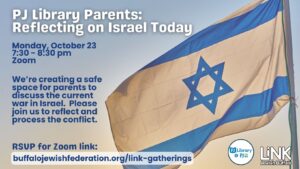 Via Zoom
PJ Library Parents: Reflecting on Israel Today
RSVP for Zoom link http://buffalojewishfederation.org/link-gatherings
Tuesday, October 24th, 7:00 p.m.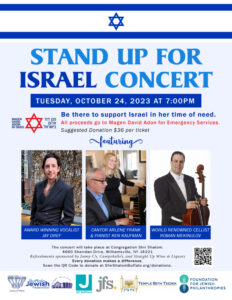 Stand Up for Israel Concert
Congregation Shir Shalom
4660 Sheridan Drive, Williamsville