In the summer of 2021, Jewish Family Services of WNY (JFS) was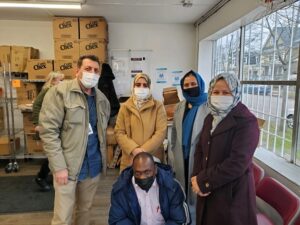 awarded a $30,000 grant from the New York Immigration Coalition to support food security initiatives for immigrants living in NYS. Danielle Bernas, JFS SOT Program Manager, and Meghann Rumpf Perry, JFS Director of Community Services, met with Donna Pepero, Senior Manager of Programs at West Side Community Services (WSCS), and Crystal Selk, WSCS Executive Director, to discuss a partnership to provide culturally appropriate food to the various immigrant communities that now call Buffalo their home. Both agencies were able to come together to implement a new initiative that allocates money from the JFS grant to WSCS to purchase and supply food, including halal meat, through WSCS's existing food pantry in the West Side of Buffalo.
The initiative opened with a Food Pantry Orientation Day for newly arrived Afghans that took place on December 30th, 2021. JFS and WSCS were able to serve 73 community members that day, many of whom were families. Most of the community members had just resettled in Buffalo from Afghanistan, but other community members from Burma and other countries were able to access needed food as well. JFS staff and other resettlement agencies worked diligently to get as many families and individuals there as they could and provided interpretation. WSCS staff provided a shopping experience for community members so that they had choices about the most appropriate food. According to Donna Pepero, "It was an amazing turnout. There were a lot of happy faces leaving the pantry that day."
The initiative is set to continue through early 2022. At this time, WSCS will dedicate designated hours on Tuesdays and Thursdays to the immigrant community residing in zip codes 14213, 14222, 14201 and will provide pre-packaged boxes of food. All resettlement agencies and organizations working with the immigrant community are encouraged to help their clients access this service. Please stay tuned for more information or if you have any questions at this time, please contact Danielle Bernas at (716) 883-1914 ext. 340.